I've finally begun making travel & lodging plans for the
Madison Art Glass & Bead Show
that I'll be doing March 17th & 18th in Madison, Wisconsin. This will be my 2nd year as a vendor & I'm really looking forward to it. Last year was such a great show & a great time w/ friends.
I'll be driving out there w/ my friend
Susan Jones
of Susan Jones Designs, who is an amazing glass bead artist & a fun roommate. It will also be my 2nd year to teach at the Friday night
Make-n-Take
. Susan was my assistant last year & has offered to help me out again this time around & I'm so happy!! :o) She was so much help....6 groups, 10 students per group in 4 hours (that would be 60 people, if you didn't do the math)... it's CRAZY & I can't imagine doing it w/out her.
If you've never seen
Susan's work
, you've been missing out. Her wonderful, colorful style reminds me a little of the German glass bead artists...w/ the super fine lines, dots & details, wonderful murrini & great use of color.
All of the beads you see in this post are Susan's. The first beads I saw of hers were her little Flowbots...
Invasion from Minneglasspolis
. She's a big sci-fi fan.
You can buy her pieces in her
Etsy shop
or at the many art shows & festivals that she does around the Twin Cities throughout the year. She's selling in Tuscon for the first time January 31st - February 5th @ the
To Bead True Blue
show, good luck, Susan!! She'll be selling @ both the
Twin Cities Bead Bazaar
& also @ the
Madison Art Glass & Bead Show
where I'll be as well. Susan is providing the challenge bead for the Madison show's
Bead Challenge
!
So...what does glass & Susan have to do w/ food, you ask?? Well, I was turned on to Thai food not too many years ago & when Susan & I were in Madison last March, we went out for Thai twice. The first night we went to this little hole in the wall, I don't remember the name of the place, but needless to say, it wasn't where we went the 2nd time. We ordered the same dish, it was pretty yummy, but Susan didn't eat all of hers & told me later that she found several short black hairs in her dish. Um...ew. I asked why she didn't say anything & she said that she didn't want to ruin my dinner. LOL. I guess I enjoyed my black hairs. :o) The evening after the end of the show, we searched all over town using my handy GPS for a NICE Thai place & came across the loveliest Thai restaurant...
Sa-Bai Thong
. It was so good. We already have plans to go there the night we get in to start our weekend out right. :o)
Susan turned me on to Sticky Rice with Mango for dessert. Oh my goodness. So yummy. I've sought it out whenever Brad & I are up for Thai & even found the
perfect recipe
for it on my favorite recipe website,
Allrecipes.com
Click on the image below, it'll take you directly to the recipe.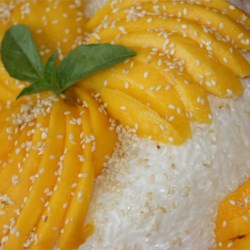 The only thing I do differently w/ the recipe is that I've cut out the sugar by using agave (& only half as much as the recipe calls for). It's so good... the perfect dessert. I have some cooking as I write this... I think it's ready, time to go cut up the mango...
Till next time...