There's something really REALLY satisfying about have your work be a part of a collaboration w/ another artist. I was approached a while ago about collaborating w/
Diane Sepanski
, who is known for her fantastic metal clay work as well as her lampwork. She loved my acorns & was coming out w/ a new branch bracelet collection & thought the two would work great together. So I sent her some acorns & this is what she came up w/!
Aren't they fabulous? I absolutely love them. I was able to meet Diane @ Bead & Button this summer & got to not only drool over her
amazing work
...
...but was able to see a few of the bracelets in person. Very, very cool!
More recently, I "liked" a page on Facebook of
Nicole Hanna Jewelry
& saw all of her amazing wireworked pieces. She's really good about showing her work frequently, so I kept seeing these beautiful pieces & decided that I needed to investigate a little further. :o) I went to her website & found out that she not only
sold wonderful pieces of jewelry
...
but that she also sold
tutorials
on how to wire wrap various pieces, from basic to super advanced pieces...
I contacted her w/ questions about her most basic tutorial & she was so helpful & I was just so in awe of her work that I offered up a piece or two of my glass for her to work w/ however she chooses. She liked the idea & said to also send her something for her to wrap for ME, so I sent off 3 pieces & this is the piece that she is sending back to me. I'm just so thrilled...
...isn't it just beautiful? She did such an amazing job, I'm just beside myself. AND, not only did she do a beautiful job, but she did it QUICKLY! I've sent pieces off to other artists to work w/ & never heard from them again, so I'm just a happy girl. :o) I'm seriously considering sending her several more pieces to have her do her magic on to sell @ my holiday show (if not on FB) because I don't think that I'll find the time to learn how to do my pieces justice & I have too many other things I'm working on. I'd just really love to have some special finished pieces like this available.
Another artist who has worked my pieces into her work is
Christi Anderson
of
Elemental Adornments
. She does some amazing pieces out of metal clay & loves my acorns!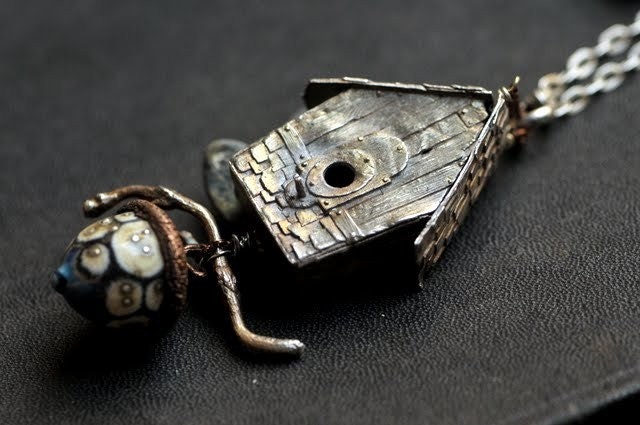 Anyway... I just wanted to show you these wonderful pieces. It's just so pleasing & satisfying to see my work w/ other super talented artist's work!!
Till next time...